Every construction worker recognizes the dangers on the job site. Unfortunately, in spite of warning signs, safety equipment, and other precautions, serious injuries are a common occurrence in the construction industry.
When you have been hurt on the job, you are generally entitled to workers' compensation benefits. In certain circumstances, you may also be able to recover compensation through a personal injury claim. Unfortunately, construction workers often face barriers to fair compensation for their injuries.
As a result, it may be in your best interest to contact an experienced construction accident attorney as soon as possible.
The Karl Truman Law Office has extensive experience helping injured workers get the benefits and other compensation they deserve. For assistance in or around Louisville, Kentucky, please call (502) 222-2222 today. Your initial consultation is free. Our lawyers also serve clients in and around Jeffersonville, Indiana; call our office at (812) 282-8500.
What Are the Most Common Types of Construction Accidents?
According to the Bureau of Labor Statistics, over 199,000 construction workers were injured on the job in 2018 (the most recent year of data). Of these injuries, 77,500 of these injuries resulted in employees being unable to work for two or more days.
The Occupational Safety and Health Administration (OSHA) reports that 5,250 workers were killed in workplace accidents in 2018. Construction workers account for 21 percent of these deaths, with more than half occurring due to the "Fatal Four" on construction sites:
Falls
Falling Objects
Electrocution
Caught-In and Caught-Between Accidents
OSHA's "Fatal Four" account for a significant number of construction worker deaths, while other accidents may lead to serious injury or fatality. Some of the most common accidents that occur on construction sites include:
Construction Site Falls
Many construction workers spend their days performing jobs at heights. From a few feet off the ground to multiple stories in the air, falls from these heights can result in injury or even death.
Some of the most common types of falls on construction sites include:
Slip and fall accidents: Slipping and tripping hazards are abundant on construction sites. From building materials and tools left in walkways to incomplete or uneven floors to spilled liquids, workers may slip, trip, and fall for a variety of different reasons.
Ladder accidents: Whether you use a stepladder, an A-frame, or an extension ladder to do your work, a fall to the ground from any height can result in injury.
Scaffold accidents: Some of the most serious falls on construction sites involve scaffolding. Multiple issues may cause a scaffold accident, including unsafe construction, defective safety equipment, inclement weather, and failure to follow procedure.
Falls from roofs: The pitched angle of many roofs may cause workers to lose their footing and fall to the ground.
Falls from hydraulic lifts: Issues such as poor maintenance, defective design, or procedural errors may cause hydraulic lifts to malfunction. If this occurs, the worker on the lift may be injured in a fall.
Elevator shaft accidents: The confined space and long drops in an elevator shaft make these falls particularly dangerous. Falls in elevator shafts may occur when workers are doing jobs inside the shaft, or because the shafts are not properly labeled or sealed off to prevent workers from accidentally walking into the empty space.
Falls may also occur as a result of structural collapse. Workers on the interior or exterior of a structure may sustain serious injuries after falling through the roof or the floor.
Construction Workers Struck by Objects
Another danger of working at heights comes from objects that fall from a height and land on a worker. Tools, supplies, and other items can pick up enormous speed when they fall, presenting a risk of serious injury or death to anyone on the ground below.
Some of the most common causes of falling object accidents on construction sites include:
Workers inadvertently dropping items
Unsecured loads
Scaffolding accidents
Faulty construction
Malfunctioning hoists, lifts, and cranes
If an object falls on a construction site, workers may not be the only ones in danger. Bystanders and motorists walking or driving past the site may also be struck by airborne debris.
Electrocution Accidents on Construction Sites
Construction sites contain a number of electrocution hazards. Workers may be exposed to high voltage as a result of:
Faulty wiring
Defective tools and machinery
Miscommunication on whether equipment is drawing power
Contact with power lines
Inadequate safety gear
Insufficient training
Workers who are electrocuted may suffer serious electrical burns, cardiac issues due to current passing through the body, and more. Physical trauma from secondary injuries (e.g., the shock pushes the worker off of a height) may also be a factor.
Given the serious injuries (up to and including death) that may occur as a result of electrocution accidents, vigilance is crucial for workers who are performing jobs that may bring them into contact with high voltage.
Caught-In and Caught-Between Accidents
According to OSHA, caught-in and caught-between accidents may involve "construction workers killed when caught-in or compressed by equipment or objects, and struck, caught, or crushed in collapsing structure, equipment, or material." Even if the accident is not fatal, serious injuries may occur when workers are caught in machinery or crushed by equipment and debris.
Examples of caught-in and caught-between accidents include:
Structure and trench collapses
Machine accidents
Being caught between two pieces of equipment
Being caught between equipment and a stationary object
Due to the different factors that can cause caught-in and caught-between accidents, it is important for construction workers to follow all safety precautions on the job site. These range from lockout and tagout procedures for machines to making sure protective systems are in place for trenches and excavations.
Tool and Equipment Defects
You rely on a wide variety of tools to do your job. Unfortunately, if the equipment you use is malfunctioning or defective, you may be at risk for serious injury.
Tools and equipment may malfunction due to simple wear and tear or because of inadequate maintenance. Alternatively, power tools and machinery may be defective due to errors in the design or manufacturing of the product. In the latter case, one or more companies involved in the manufacture of the product may be liable for your injuries.
Fires and Explosions
Construction sites often house a number of flammable materials. These materials may catch on fire as a result of errant sparks from machines, improper storage, or careless behavior in the vicinity (such as cooking or smoking).
Explosions may also occur due to a construction site fire or as a result of combustible particulates or gases building up in an enclosed space. Proper storage of hazardous materials and ventilation are a must for avoiding these potentially catastrophic accidents.
Toxic Exposure
Workers in construction and other industries come into contact with a number of potentially dangerous materials, from lead to silicates to diesel fumes and more. Although exposure to these toxins may not make you instantly sick, being around a hazardous substance long-term can result in chronic illness that, over time, may prove fatal.
Employers are obligated to provide construction workers with the protective gear they need to avoid toxic exposure. You may have legal options if you became ill as a result of your employer's failure to provide protective equipment when you were handling unsafe materials.
Vehicle Accidents
Multiple types of motor vehicle accidents may occur on a construction site:
Forklift accidents
Crane accidents
Runaway equipment
Collisions between heavy machines
Collisions between passenger vehicles and construction equipment
Construction zones are another common site of vehicle accidents involving construction workers. Reckless drivers may injure or even kill workers when they fail to reduce speed and proceed cautiously through a work zone.
According to the Kentucky Transportation Cabinet, construction zone accidents increased by 20 percent in 2019 for a total of 1,251 crashes.
The Indiana Department of Transportation, meanwhile, reported 650 injuries and 14 fatalities in construction zone accidents in 2018 (the most recent year of data).
Sources:
Bureau of Labor Statistics, Employer-Reported Workplace Injuries and Illnesses (Annual)
Occupational Safety and Health Administration, Commonly Used Statistics
Kentucky Transportation Cabinet, Vested in Work Zone Safety
Indiana Department of Transportation, Work Zone Safety
What Are the Most Common Construction Accident Injuries?
Due to the nature of construction work, construction accidents can contribute to injuries that vary widely in type and severity. Some on-the-job injuries may keep you out of work for a few days, while others may result in long-term or permanent disability.
Serious injuries that commonly stem from construction accidents include:
Back injuries such as herniated or ruptured discs
Broken or fractured bones
Eye injuries
Many construction workers also suffer repetitive motion injuries on the job. Tendons, joints, and other structures in the body must endure a lot of stress from the repeated, physically demanding activities that make up the bulk of construction work, such as lifting, carrying, and operating tools and machinery.
Over time, repetitive stress can result in inflammation, pain, loss of sensation, and loss of mobility in areas such as the shoulders, wrists, hands, back, hips, and knees. Without proper treatment, you may be unable to work as a result of these injuries.
What Should I Do After a Construction Accident?
The most important thing to do after any accident on the job site is to seek medical attention. Once you receive the care you need, your next priority is to report the accident to your employer.
In both Kentucky and Indiana, you must report a workplace accident within 30 days of your injury. Failure to do this could compromise your ability to receive workers' compensation benefits.
Next, you should speak to a construction accident attorney about your legal options. Depending on the circumstances, you may be entitled to benefits through workers' comp as well as compensation through a personal injury claim.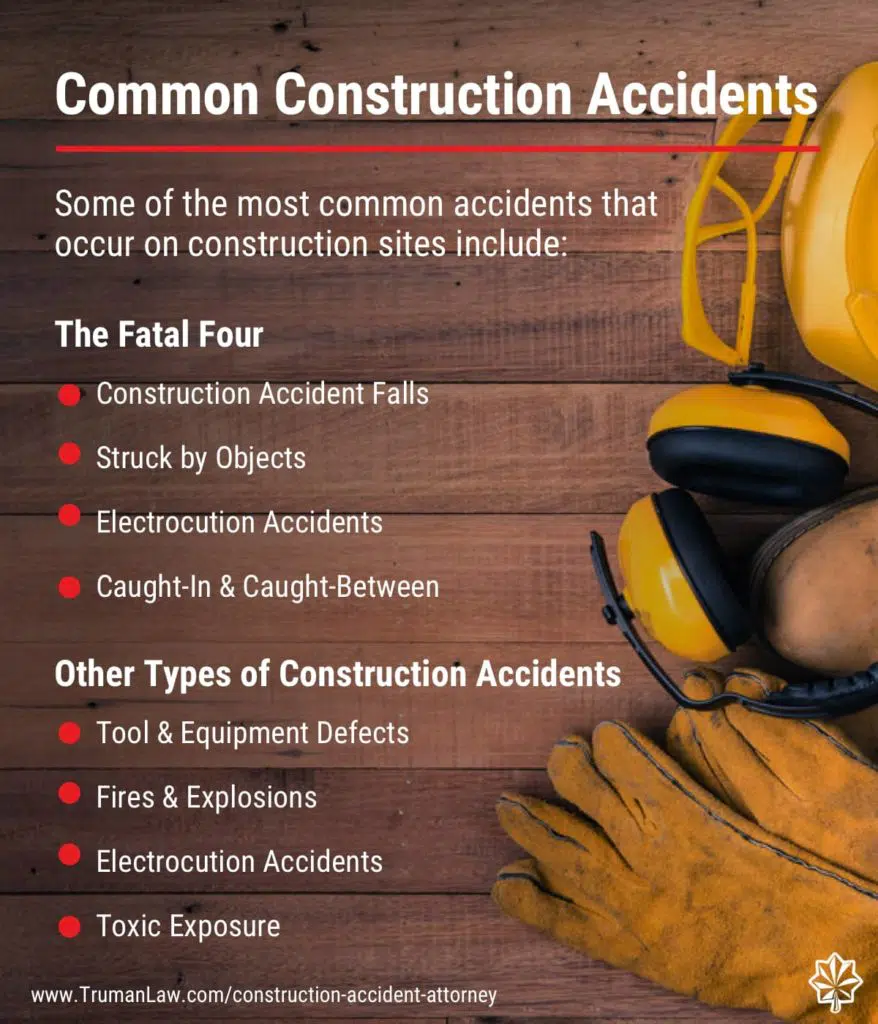 What Compensation Can I Recover for a Construction Accident?
The compensation available to you after being hurt in a construction accident depends on how the injury occurred and the losses you sustained. You may be entitled to:
Workers' Compensation Benefits
If your workers' compensation claim is approved, the benefits you may receive include:
Payment of necessary medical expenses
Partial replacement of lost wages (calculated as a percentage of your weekly pay, subject to state-mandated limits)
Payments for temporary or permanent disability
Death benefits (in the event of a fatal construction accident, surviving spouses, children, and other dependents may be entitled to payments constituting a portion of the deceased worker's weekly wages)
Workers' compensation is a type of "no-fault" insurance. You do not have to prove that your employer was at fault for the accident, just that your injuries are work-related. In fact, you generally forfeit the right to sue your employer if you receive workers' comp benefits.
Personal Injury Compensation
After a workplace accident, you are generally barred from suing your employer or a coworker for negligence. If, however, the negligence of a third party resulted in your injuries, you may be able to pursue damages through a personal injury claim.
Liable third parties in a construction accident claim may include:
The owner of the property or construction site
A contractor or subcontractor
The manufacturer of a defective product (tools, machinery, materials, etc.)
Careless drivers, in cases involving construction zone accidents
You can pursue full compensation for your losses in a personal injury claim, including:
Medical expenses
Physical therapy, rehabilitation, and vocational therapy
Lost wages
Loss of earning capacity
Out-of-pocket costs for losses related to the accident
Pain and suffering
Mental anguish
If your loved one was killed in a construction accident where third-party liability was a factor, you may be able to recover damages through a wrongful death claim. Wrongful death damages generally cover losses such as funeral and burial expenses, medical costs for care your loved one received prior to death, loss of income, loss of society and companionship, and more (depending on the circumstances).
Do I Need a Construction Accident Lawyer?
You might assume that receiving workers' compensation benefits after a construction accident is fairly straightforward. After all, you were hurt on the job, so you qualify for workers' comp, right?
Unfortunately, injured construction workers often face a number of obstacles when they make a workers' compensation claim. Legitimate claims may be denied and benefits may be underpaid. Furthermore, disabled workers receiving payments may have their disability benefits wrongly terminated.
For all of these reasons, it is important to start working with an experienced construction accident attorney as soon as possible after you have been injured on the job site. Our lawyers can assist you with all aspects of your case, including:
Completing your workers' compensation claim and filing it on time
If your claim is approved, reviewing the benefits award to ensure you are being fairly compensated
If your claim is denied, reviewing the award letter to understand the decision
Appealing denial or underpayment of your workers' compensation claim
An experienced attorney can also investigate the construction accident to determine the role of potentially negligent third parties in causing your injuries. Multiple parties and consistently changing conditions are prevalent on construction sites, so it is important to speak to a lawyer as soon as possible to ensure the best chance of securing crucial evidence to build your claim.
Contact Our Construction Accident Attorneys Today
Working construction comes with many risks. If you are injured on the job, you deserve to be fairly compensated for your injuries and other losses. The Karl Truman Law Office has extensive experience getting injured construction workers and their families the benefits and other compensation they deserve after an accident.
If you were hurt or a family member was killed in a construction accident in Kentucky, please contact the Karl Truman Law Office in Louisville by phone at (502) 222-2222 or complete the form on this page for your free consultation.
Our construction injury lawyers also serve clients in Jeffersonville and other areas of Indiana. Please call (812) 282-8500 for a free evaluation of your construction accident case.