Are Parking Lot Accidents Always 50-50 in Kentucky or Indiana?
March 31, 2023
Parking lots can be dangerous places. One commonly cited estimate from the National Safety Council (as reported by CBS) suggests that around 20 percent of all car accidents occur in either a parking lot or parking garage.
You might have heard that parking lot crashes are "always 50-50," but that's not true. Sometimes, one driver is totally at fault. For example, if a distracted driver slams into a legally parked car, there should be very little question about who was responsible.
However, determining fault can become complicated for many reasons. In this post, we'll look at parking lot fault determination rules, and how a car accident attorney can help you get fair and full compensation.
The Anatomy of a Parking Lot
Just like with crashes that happen on the road, determining fault in crashes that happen in parking lots often comes down to who has the right of way. It may be helpful to start by first thinking about how parking lots are constructed.
Most parking lots have a similar set-up:
Thoroughfare lanes. These are the main "arteries" of a parking lot and carry traffic entering or leaving the property (rather than looking for a specific parking space). They encircle the parking lot and connect to the main road.
Feeder lanes. Feeder lanes usually have parking spaces on one or both sides. They're used by traffic looking to enter or leave a specific space.
Parking spaces. They're usually connected to feeder lanes, but in some cases, you might find them along the main thoroughfare.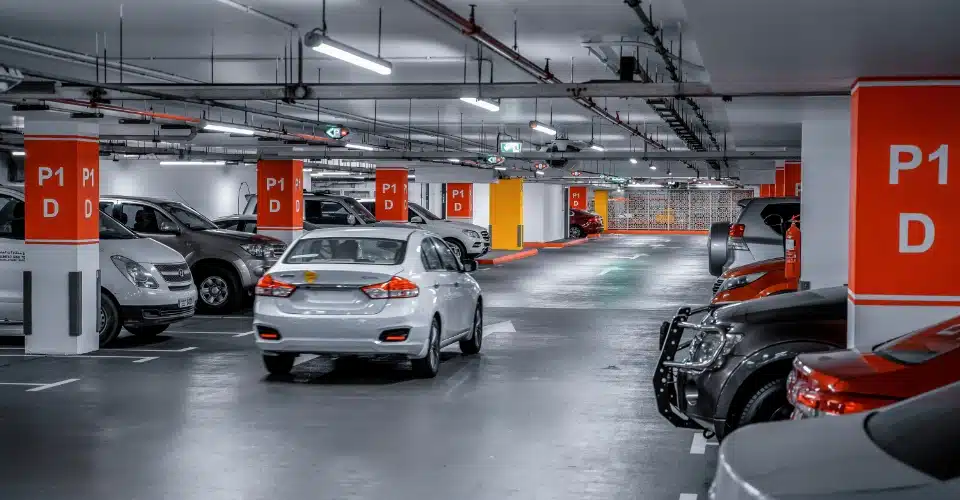 How to Assign Fault in Parking Lot Crashes
Basic Parking Lot Right of Way Rules
When you have the right of way, other drivers should yield and let your vehicle go first. But while you might know exactly how right of way works at an intersection, parking lot right of way rules might be more of a mystery. Here's how they work in Kentucky and Indiana.
Drivers traveling in thoroughfare lanes have the right of way in most circumstances. But you'll need to yield to pedestrian traffic, as well as follow all road markings and traffic signs.
Cars traveling down a feeder lane have the right of way over any driver pulling or backing out of a space. However, they must yield to traffic in the throughfare even if there are no signs.
It is the responsibility of any driver entering or exiting a parking space to make sure the way is completely clear before proceeding.
Parking Lot Right of Way Rules: When Things Get Complicated
While the basic right of way rules are a good foundation, the unfortunate reality is that not all parking lot accidents are quite so clear-cut. Here are a few simple examples:
Two cars on opposite sides of a feeder lane back out at the same time and collide with one another. Both drivers should have checked for traffic before pulling out. In general, the person who began backing up first would have the right of way. But if both started backing up at about the same time, liability might be divided between the drivers.
A speeding driver hits a vehicle that's backing out of parking spot. Even though in most cases, drivers leaving a space will be liable, this might not be the case if a car in the feeder lane was traveling at an unsafe speed and there was no way for the other driver to see them before the collision.
In some cases, the company that owns the parking lot or parking garage could share some of the fault. This might be the case if factors such as unclear signage, poor lighting, potholes, or poor design (such as blind corners) contributed to the crash.
Do Police Respond to Parking Lot Accidents?
State law in both Kentucky and Indiana is clear that you are required to report any accident, regardless of where it took place, to the police if it meets certain thresholds:
In Kentucky, you must report any car accident that causes death, injury, or $500 or more in property damage. You have 10 days to report.
In Indiana, you must report any car accident that causes death, injury, or $750 or more in property damage—and must do so "immediately."
However, while you may have a requirement to report the crash, different local police departments may have their own policies about whether they will send an officer to investigate a crash that occurs on a parking lot or other private property.
Sometimes, you may not be able to get a police report from a responding officer. This doesn't mean you won't have a personal injury case, but it does mean that you'll have to use other forms of evidence to prove your case or document the cause of the crash.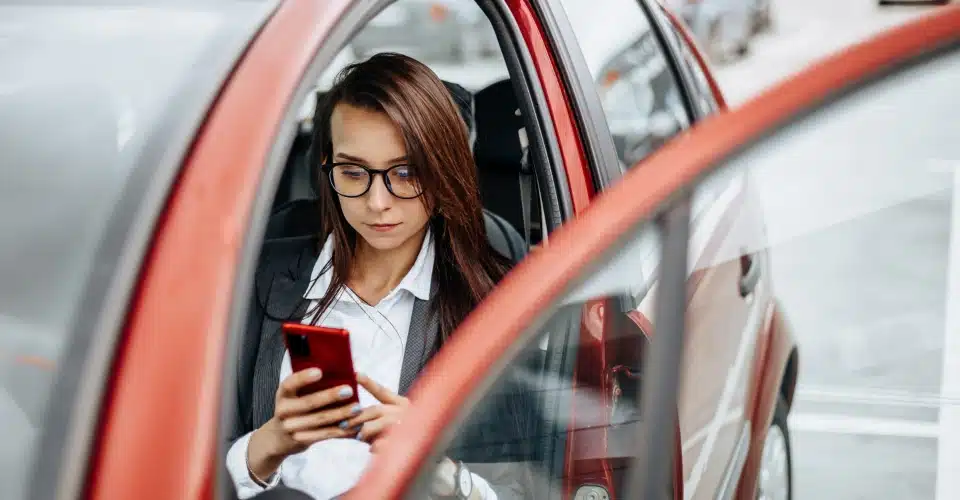 What Should You Do After a Parking Lot Accident?
After a parking lot accident, you should take the same basic steps you would take for any other type of crash:
Check for injuries. Even if you don't need emergency care, you should follow up with a doctor as soon as possible if you experience any noticeable symptoms following the accident.
Contact the police.
Get the other driver's name, driver's license number, and contact and insurance information.
Gather name and contact information from any eyewitnesses.
Document the crash (like damage to both vehicles and road debris) and your injuries with photos.
Seek medical care as soon as possible (even if your injuries seem minor).
Contact a car accident lawyer for a free consultation as soon as possible.
Do I Need an Attorney After a Parking Lot Accident?
That depends on the circumstances. If the crash only resulted in damage to your vehicle, you didn't require any medical care or time off from work, and the at-fault driver admitted responsibility, you can probably handle your insurance claim on your own.
If you're feeling overwhelmed or just don't know where to begin, you can download a copy of our FREE ebook, After a Car Accident: Your (Legal) Survival Guide to Handling a Property Damage Claim WITHOUT a Lawyer.
RELATED: Karl Truman Law Office Books and eBooks
However, if you have an injury claim or the at-fault driver's insurance company is denying responsibility, we strongly encourage you to at least speak with an experienced car accident attorney as soon as possible. Injury claims are usually complex and auto insurance companies will fight them aggressively. Without strong evidence, your claim may be denied or significantly undervalued.
How an Attorney Can Help
If you were hurt in a parking lot collision that wasn't your fault, don't let the insurance company pin 50 percent of the blame on you.
An experienced attorney can help you investigate the accident and gather whatever evidence might be available, including eyewitness accounts and security camera footage. They may be able to reconstruct the accident based on photos of the vehicle damage, crash site, or evidence taken directly from the scene.
Your attorney will also help ensure that you stay on top of your medical care and that all your medical expenses, lost wages, and pain and suffering are accurately accounted for when negotiating a settlement on your behalf.
Count on the Colonel
The best time to contact an attorney is as soon as possible after the parking lot accident occurred. The longer you wait, the harder it may be to collect the evidence necessary to prove your case. The consultation is always free, and you only owe us if we win a recovery for you.
To request your free consultation, contact our team today or call us at (502) 222-2222.
The content provided here is for informational purposes only and should not be construed as legal advice on any subject.