Helping Clients in Kentucky and Indiana Get Their ERISA Long-Term Disability Benefits
Do you have long-term disability benefits through your employer? If so, your plan is likely governed by an employment law called the Employee Retirement Income Security Act of 1974 (ERISA). In theory, your ERISA long-term disability insurance is supposed to provide for you if you can't work for an extended period due to injury or illness.
Unfortunately, getting the monthly benefits you need is not always straightforward. Long-term policies typically have a more restrictive definition of disability than short-term policies, so an illness or injury that qualified for short-term employee benefits might not qualify for long-term benefits.
Worse, ERISA imposes strict deadlines and restrictive rules that not only limit when you're able to sue for the benefits you deserve, but also what new evidence you can present to the court. Simple mistakes during the administrative appeals process could be fatal to your case.
Whether you need help filing your claim, or you've just received an initial denial letter, call Truman Law Office today for a free consultation with one of our ERISA attorneys. Time may not be on your side, and our experienced legal team can help you fight for the benefits you deserve.
Why Should I Hire an ERISA Attorney to Help Me with My Long-Term Disability Claim?
Although you have rights under ERISA, the claims process can be complicated and arduous:
Disability can be difficult to prove. Often, you must provide a significant amount of evidence and documentation to prove your disability, which may include notes from physicians, letters from colleagues and family members, journal entries of your symptoms, and more.
If your claim is denied, you must go through an administrative review. You can't sue your disability insurance company right away. You must go through your insurer's administrative review process, which can be extremely strict, complex, and confusing.
There are strict deadlines. You typically have 180 days to review all the evidence and your long-term disability policy, supplement your long-term disability case with medical records and other evidence, and file a lengthy, written appeal to the insurance company.
If your appeal is denied, you cannot add new evidence. If you've completed the administrative review process and your claim was still denied, you have a right to sue your insurance company. However, under ERISA, the court can only use the evidence you provided during your administrative review. That makes it critically important that your case is as bulletproof as possible by the time you file your first administrative appeal. You may have only a few weeks to build your case.
An experienced long-term disability attorney familiar with ERISA cases can help you understand the dense and often confusing legal language in your benefit plan and determine whether you should qualify for disability. They will also help you assemble the evidence you need to improve your chances of a successful appeal and, if necessary, represent your interests in a civil suit.
Truman Law Office: Disability Attorneys on Your Side
We understand the importance of getting the benefits to which you are entitled, as well as the frustration of having a legitimate claim denied or the benefits you rely on terminated. ERISA is an extremely complicated piece of legislation. Furthermore, it is often very difficult for claimants to identify employer misconduct, insurance bad faith, and other issues affecting their benefits.
To navigate these issues, you need an experienced ERISA attorney with enough experience and resources to handle complex legal matters. The law firm you choose should also understand what's at stake in your case and should also be able to help you if there are additional claims (for example, Social Security Disability or VA Disability) that may be relevant to your situation.
That's why you should Count on the Colonel. The Karl Truman Law Office has extensive experience handling ERISA claims, non-ERISA long-term disability claims, Social Security Disability Insurance, and veterans' disability benefits claims.
Beginning with your free consultation, your ERISA lawyer will provide you with guidance on your legal options as the case unfolds. Lawyers and staff at the Karl Truman Law Office will always return your calls and emails in a timely fashion. Our office in Louisville, Kentucky, can be reached at (502) 222-2222, or you can dial (812) 282-8500 for service in and around Jeffersonville, Indiana.
What Our Clients Say About Us
You expect your long-term disability insurance to be there for you and your family when injury or illness keeps you from working. No one should be in a position where they can't work, can't earn an income, and have to fight an insurance company before they can get the disability benefits they've been promised.
At Karl Truman Law Office, our attorneys go the extra mile for our clients—not just getting them the benefits they deserve, but answering their questions, guiding them through the process, and putting them at ease. Here's what some of our past clients have to say about our law firm:
What Is ERISA (and What Are My Legal Rights)?
Most welfare benefit plans provided by private employers—including disability insurance, healthcare insurance, and retirement plans—are governed by a federal law known as the Employee Retirement Income Security Act of 1974 (ERISA).
While this law does guarantee certain protections for employees, it also comes with its own set of complexities and limitations, including important deadlines for filing an appeal if you believe you've been unfairly denied after filing a long-term disability claim.
Do I Have an ERISA Case?
Almost all employee benefit plans are governed by ERISA. The only exceptions would be for public employees (like those working for a government agency) and people who work for qualified religious institutions (which includes churches and some church-affiliated non-profits, like hospitals).
If ERISA does not control your case, different state or federal laws will apply. If you need help assessing your long-term disability policy and the relevant disability law, contact Karl Truman Law Office for a free, no-risk consultation.
What Are My Rights and Responsibilities When Filing an ERISA Claim?
As it applies to disability claims, ERISA establishes several rights and responsibilities for employers and insurance companies:
Employees must be informed of the benefits to which they have access
Employees must be provided with information on how they can file a claim
Insurance companies must approve or deny claims for benefits in a timely fashion
An employer may not terminate you or discriminate against you for filing a claim
In the event that they deny a claim or terminate benefits, the employer or insurer must provide the employee with records pertaining to the decision
If the insurance company denies your ERISA case, you have the right to appeal.
What Is the ERISA Appeals Process?
ERISA appeals can be complicated. First, you must file an administrative disability appeal with the insurance company. You must submit this appeal within a deadline (by statute, that deadline is a maximum of 180 days from when you were notified about your claim status).
During the administrative appeal process, you can submit additional medical evidence and other information that supports your claim for benefits. Our long-term disability lawyers can help you identify all the missing information and supplement your claim. Then, the insurance company has 45 days to evaluate and make a decision on your appeal.
If the insurer denies your administrative appeal, its decision becomes final. At this point, you can file a lawsuit against your employer and the insurer in federal court. However, you cannot request a jury trial or present any new evidence at this level of the appeal process.
Appealing an ERISA Long-Term Disability Claim? Don't Go It Alone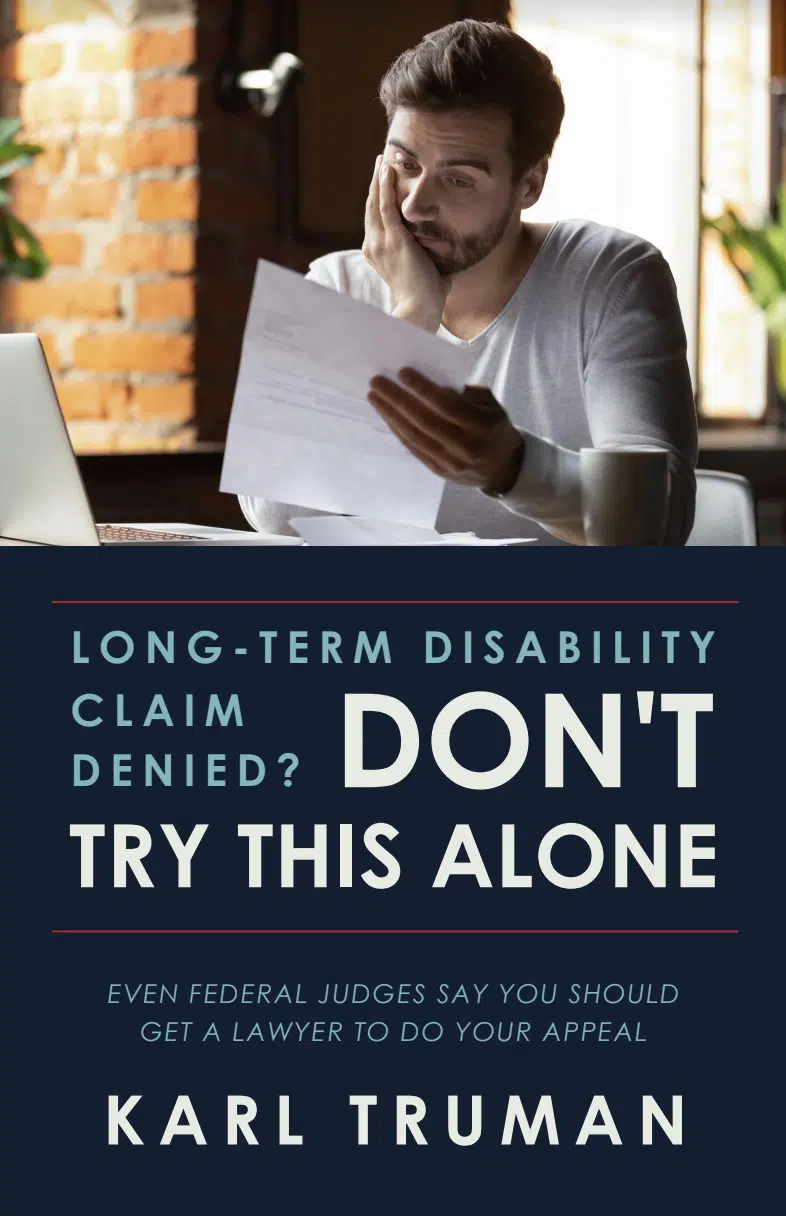 Appealing your ERISA Long Term Disability Claim
Don't Try This Alone explains the difficulty in appealing your ERISA Long Term Disability (LTD) claim without an experienced attorney. It is written in plain English without the complicated legal language. It is a tool to help claimants know what to look for in an attorney and when to hire one if your long-term disability (LTD) claim is denied. This book will help you avoid mistakes that can cost you benefits if you are unable to work.
Common Reasons for Long-Term Disability Denials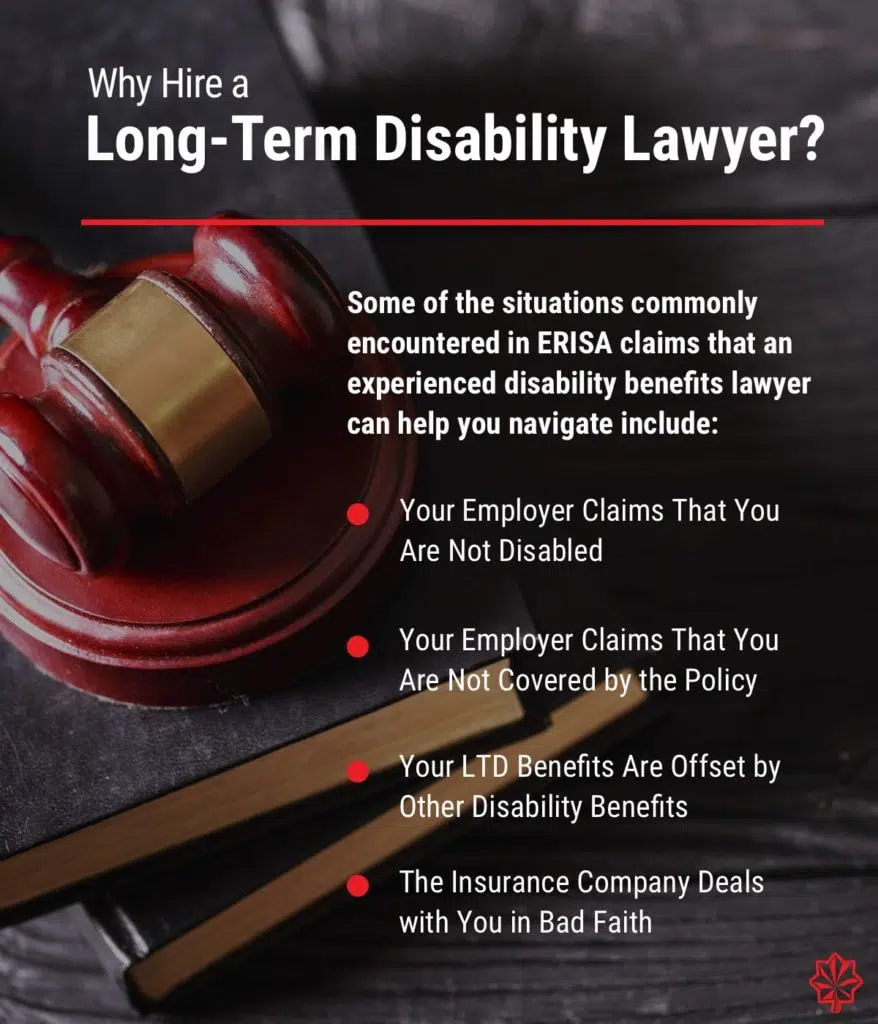 Some of the situations commonly encountered in ERISA claims (as well as non-ERISA long-term disability claims) that an experienced disability benefits lawyer can help you navigate include:
Your Plan's Terms and Conditions
Most LTD benefits plans provide very narrow definitions of what constitutes disability. The two main "definitions" of disability used by LTD plans are:
Own occupation: You are considered disabled if you are unable to perform the duties of your current job.
Any occupation: In order to be considered disabled, you must be unable to work any job to which you are reasonably suited—even if it's outside your current field or pays much less than your current job.
Unfortunately, most LTD benefits plans use the much narrower "any occupation" definition, or sometimes start out as "own occupation" plans but transition to any occupation after a set period of time. This differs greatly from short-term disability plans, which often use an "own occupation" definition.
Suppose you are a highly skilled worker, like an electrician, doctor, or software engineer. During a car accident, you suffered a traumatic brain injury that makes it hard for you to complete multi-step tasks and affects your long-term memory. Under an "own occupation" plan, you might qualify for ERISA benefits. However, if you have an "any occupation" plan, the insurance company could argue that you can do other, simpler work like bagging groceries—and that could be enough to deny your claim.
Your Employer Claims That You Are Not Disabled
Disability qualification is generally not black and white, and the insurance company may take advantage of any "gray area" to claim you are not disabled. Unfortunately, many disability insurance companies, like UNUM, have a long history of prioritizing profits over people.
Insurers rely heavily on the input of their hired medical professionals, previous cases, and your job title. These facts may not paint a truly accurate picture of how your illness or injury impacts your ability to do your job (or any job). Every illness or injury is different, and job titles don't always accurately reflect your actual duties.
To overturn an unfair denial, employees will often have to collect and present their own evidence (including doctor notes, journals, letters from colleagues, etc.) to contradict the insurance company's conclusion.
Your Employer Claims That You Are Not Covered by the Policy
Employee classification is critical to many cases where eligibility for benefits is disputed. Sadly, it is not uncommon for employers to present an employee as a part-time or contract worker in order to limit the benefits available to them.
If your employer argues that you are not eligible for LTD benefits due to your employment status, the attorneys at the Karl Truman Law Office will investigate your employment records, tax returns, and other documents to present evidence to the contrary.
Your LTD Benefits Are Offset by Other Disability Benefits
Long-term disability benefits are a percentage of your monthly income (generally 50% to 70%, depending on your employer's policy), less any other benefits you receive. If you receive benefits through Social Security Disability Insurance (SSDI), the LTD provider is allowed to reduce the amount you receive accordingly.
However, in some cases the private insurer may cite the decision of the Social Security Administration in its decision to approve or deny your benefits. If you are denied SSDI benefits (as the majority of first-time applications are), that decision should have no bearing on your eligibility for long-term disability benefits. Our experienced lawyers can help you appeal denials of one or both benefits.
The Insurance Company Deals with You in Bad Faith
Long-term disability insurance companies are required to deal with claims in good faith. In other words, a legitimate disability insurance claim must be processed and a decision rendered in a timely fashion. If the claim is approved, the amount of benefits must be provided in accordance with the policy. And, in the event of a denial, clear and sufficient reasoning must be given.
Unfortunately, the priority for any insurance company is its profits. As a result, unethical LTD insurers may draw out the application process, delay making a decision, or deny your claim without proper grounds.
The ERISA law generally precludes a claim of bad faith against the insurance company. However, when the benefits replacing your income are on the line, it is in your best interest to consult an experienced lawyer who can investigate the circumstances surrounding your claim and take action on your behalf.
Denied Benefits? Contact the Karl Truman Law Office for Your Free ERISA Claim Review
If an injury or illness prevents you from work, you shouldn't have to fight to get the long-term disability benefits you deserve. But sadly, your employer, their insurance company, or both parties may deny the benefits you are rightfully owed, delay your claim, or engage in other misconduct.
You can count on the Karl Truman Law Office to provide qualified assistance with filing your claim, launching an appeal, and all aspects of the process. We are proud to offer a 30-Day Satisfaction Guarantee, meaning that if you aren't 100% satisfied with our representation within 30 days of hiring us, you can walk away without owing us anything.
But remember: It takes time to build a strong claim or make an effective appeal, and deadlines are often strict. We encourage you to contact our lawyers as soon as possible to explore your rights under ERISA and how to proceed with your claim.
For a free evaluation of your LTD disability benefits claim, please contact the Karl Truman Law Office today. Our office in Louisville, Kentucky, can be reached at (502) 222-2222, or you can dial (812) 282-8500 for service in and around Jeffersonville, Indiana.
The content provided here is for informational purposes only and should not be construed as legal advice on any subject.