The Karl Truman Law Office is proud to help disabled clients from the Louisville, Kentucky, and Jeffersonville, Indiana, areas pursue the benefits they need. We understand that the process of applying for SSDI can be confusing, and our lawyers have the knowledge to help ensure your claim for benefits is thoroughly documented to increase your chances for timely approval.
SSDI Eligibility
SSDI is intended to provide financial help for people who cannot work due to a medical condition that results in total disability and is expected to last at least one year. Benefits are not available to those with partial or short-term disabilities.
In addition to having a disability recognized by the Social Security Administration (SSA), you must have previously held a job or jobs covered by Social Security and accumulated a set number of credits based on your age and span of employment. For those who qualify, SSDI benefits include monetary compensation based on your age and earnings record.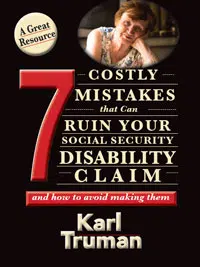 7 Costly Mistakes That Can Ruin Your Social Security Disability Claim
Seven Costly Mistakes that Can Ruin Your Social Security Disability Claim is written in plain English, without confusing legal mumbo jumbo. This book is for consumers to educate themselves to avoid costly mistakes when pursuing social security disability claims.
Louisville Social Security Disability Attorney FAQs
Why Hire an Attorney to Handle Your SSDI Claim?
Applying for Social Security Disability benefits is not easy. The application can be confusing and time-consuming, and the Social Security Administration may take months to review your application. What's worse, the majority of first-time claims are denied.
An experienced Social Security disability attorney can help you overcome the challenges in the process of applying for SSDI and/or appealing a decision to deny benefits. Some of the ways a lawyer can assist you include:
Completing the application
Filing your claim in a timely fashion
Reviewing your medical records and other information
Handling requests for additional documents
Advising you of additional options for disability benefits
In the event that your SSDI claim is denied, you have the right to appeal. It is in your best interest to hire an attorney at this point. Your lawyer can make sure your appeal is filed on time (you only have 60 days to appeal the decision), submit additional evidence for reconsideration of the claim on your behalf, and represent you in an administrative hearing or before the Social Security Appeals Council or in federal court as your case requires.
How Much Does a Social Security Disability Lawyer Charge?
Concerns about cost make many claimants shy away from hiring an attorney. However, contacting an SSDI lawyer is often a very cost-effective decision.
Our Social Security disability attorneys handle claims on a contingency fee basis. You only pay a fee if your lawyer achieves a favorable decision in your case. The fee will be calculated as a percentage of the back pay benefits to which you are entitled. Back pay or past-due benefits is the accumulated amount you would have received if your claim was approved right away.
Social Security law limits the attorney fee to 25 percent of the back pay, or to $6,000 – whichever is less. While it is difficult to say exactly how much a lawyer will charge for handling your SSDI claim, you can rest assured that you won't have to pay unless you are approved for benefits.
What Disability Benefits Are Available to Me?
There are two types of benefits the Social Security Administration may grant to disabled people. The most well-known and common is SSDI.
SSDI pays you a monthly benefit once the Social Security Administration confirms your disability and approves your application. The exact amount you receive will vary based on your recent earnings history. According to the Social Security Administration, in 2020 the average monthly benefit paid to disabled workers is $1,259.
Under certain circumstances, your family can receive SSDI benefits. There are also work requirements, which means you'll have to demonstrate that you've worked a certain amount over a recent period of time to qualify.
The other form of benefits offered by Social Security is Supplemental Security Income (SSI). As described by the Social Security Administration, SSI "makes monthly payments to people who have low income and few resources."
These people include those who are:
65 or older
Blind
Disabled
The federal SSI benefits for 2020 are $783 per individual and $1,175 per couple. As a joint federal-state program, you may also receive supplemental payment from the state in which you live. The amount of supplemental payment will vary depending on whether you reside in Kentucky or Indiana.
Do Any Conditions Automatically Qualify for SSDI Benefits?
"Automatic" implies that you are guaranteed approval for SSDI benefits. Regardless of your disability, you will still need to go through the application process and have your condition supported by medical evidence in order to qualify.
However, the Social Security Administration does have a compassionate allowances program designed to "reduce waiting time to reach a disability determination for individuals with the most serious disabilities."
The list of conditions that qualify for a compassionate allowance is extensive. If you have a qualifying condition, your SSDI claim should be expedited. However, it is very important for your application to be complete and your disability to be documented in detail. An experienced Social Security disability benefits lawyer can help.
Is PTSD Considered a Disability?
The Social Security Administration does include post-traumatic stress disorder (PTSD) in the mental disorders section of its listing of impairments. Qualification for SSDI benefits is dependent on all of the following:
You were exposed to actual violence, serious injury, or death, or threatened with the same
You subsequently relive the traumatic event through intrusive thoughts, memories, nightmares, etc.
You avoid external reminders of the event
You suffer disturbances in your behavior and mood
You experience hypervigilance, are easily startled, and other issues with alertness and reactivity
To qualify for benefits, these impacts must be "serious and persistent," or extremely limit mental functioning in a workplace. Your medical records should document the severity of the PTSD and its effect on your day-to-day life.
How Can I Increase My Chances of Getting Disability?
Applying for Social Security Disability Insurance benefits is a complicated process. Many applicants wait for months only to learn that their request for benefits has been denied.
Therefore, it is crucial to do all you can upfront in order to reduce the likelihood that your application is denied. The Social Security Administration provides a list of information you will need in order to apply for SSDI benefits. This information includes:
Details on your disability, including doctors you have seen for treatment, hospitalizations, medications you take, and medical tests
Your employment history
Your earnings for the current year and the previous year
Any other benefits you have applied for or plan to pursue, including:
You may be asked to provide copies or original documents as part of your application. These documents could include your birth certificate, medical records, tax returns, and more.
An experienced attorney can assist you with the application process. Attorneys who know the SSDI process have an in-depth understanding of how the Social Security Administration reviews applications and the information applicants submit. Professionally prepared applications don't contain the errors or omissions many first-time claimants make, which is generally beneficial for the approval of your benefits.
Disabilities Covered by SSDI
There is a broad range of physical and mental health conditions that may be covered by SSDI, which are detailed on the SSA Listing of Impairments Web page. Specific conditions fall under a number of categories recognized by the SSA, including:
Musculoskeletal conditions, such as those caused by spinal cord injuries
Neurological conditions, such as those caused by brain injuries
Skin disorders, such as those caused by severe burn injuries
Respiratory system conditions, such as cystic fibrosis
Cardiovascular conditions, such as congenital heart disease
Hematological disorders, such as sickle cell disease
Endocrine disorders, such as types of diabetes

Mental disorders, such as schizophrenia

Digestive system disorders, such as inflammatory bowel disease
Cancer
It is important to note that there are some conditions not specifically listed by the SSA that may still entitle you to SSDI benefits. Your consultation with one of our attorneys can help you determine if you will qualify.
What To Do If Your SSDI Claim Was Denied
If you were denied what you believe to be a valid application for SSDI, we can also help you appeal your SSDI claim.
If you or a family member suffers from a disability that prevents work but you believe your application for Social Security Disability Insurance (SSDI) was wrongfully denied, the Louisville attorneys at the Karl Truman Law Office may be able to help you file a successful appeal so you can obtain the benefits you and your family need.
Approximately 70 percent of initial applications for SSDI are denied, and many otherwise valid claims are rejected because applicants did not fully complete the complex forms or include adequate documentation of their disabilities. Our lawyers have thorough knowledge of the SSDI application and appeals processes, and we have helped numerous individuals and families from Kentucky, and the Jeffersonville, Indiana, area get the SSDI benefits they need.
Appealing a denied SSDI claim requires submitting a Request for Reconsideration and a Disability Report Appeal. You may also need to include additional medical records to support your claim.
Our SSDI attorneys can help ensure your appeal forms are properly completed and that you have the necessary documentation for your disability. We have extensive experience helping SSDI applicants with legitimate disabilities successfully appeal denied claims. Considering that the rate of rejected SSDI applications is higher than the national average in both Indiana (71 percent) and Kentucky (75 percent), working with a qualified SSDI lawyer on your application or appeal can make all the difference.
Schedule Your SSDI Consultation Today
If you are seeking assistance in filing for SSDI or appealing a denied claim, please contact the Karl Truman Law Office today to schedule your free consultation. We can be reached online, or you can call (502) 222-2222 to speak with a team member at our office in Louisville, Kentucky, or call toll-free at (812) 282-8500 for service in Jeffersonville, Indiana, and other nearby areas.